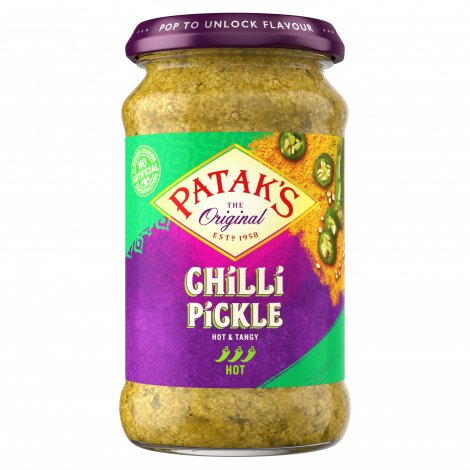 Chilli Pickle
A fresh-tasting pickle, with a blend of green chilli, aromatic ginger and traditional spices to deliver a deliciously balanced chilli kick.
Energy:

1360kJ/330kcal

Fat:

32g

Carbohydrate:

1.4g

Protein:

4.2g

Salt:

7.7g

---

Green Chillies (42%), Rapeseed Oil, Salt, Cracked Yellow MUSTARD Seed (7%), Ginger Purée (5%), Cracked Fenugreek Seed (2%), Acid (Acetic Acid), Water, Turmeric Powder.

Allergy Advice

For allergens, see ingredients in BOLD. May also contain peanuts and nuts.
Recipes featuring this product
A modern take on a traditional Fish and Chip recipe with Indian influence.
A South Indian classic, this tasty side is a refreshing change from plain rice - it has a real zing to it. It uses our Biryani Spice Paste, which gives it an extra spicy flavour.
The Aubergine - otherwise known as Brinjal or Eggplant - is popular in Indian cuisine, with India actually being responsible for around a quarter of its production worldwide. The aubergine absorbs spices really well, making this a really flavoursome side dish.Simple to make, it uses our delicious Balti Spice Paste.
View more recipes